About Tom Parker Ltd
Established in 1972, Tom Parker Ltd is a family-run distribution company. With branches in Preston and Basingstoke, we are perfectly equipped to serve the fluid power requirements of the whole of the UK. Tom Parker Ltd provides a comprehensive range of products, combined with superior levels of service - making us the name to trust in Pneumatics and Hydraulics.
Market Leading Brands
Tom Parker Ltd stock, market and distribute over 30,000 high quality fluid power products. Our core brands consist of CDC Pneumatics, CEJN, Colder Products Company (CPC), E.MC Pneumatics, Master Pneumatic and Sicomat. The latest edition of our biennial 2020-2021 product catalogue contains 12 new, carefully selected, market leading brands and more than 4,000 new products.
What you need... When you need it...
Our technical support team and area sales managers are extensively trained by our suppliers to enable them to offer impartial advice. So whatever your connection problem, our experts will source the solution that is right for your individual needs. With over 50,000 sq. ft. of warehouse and workshop space, we hold most of our catalogue items in stock and can deliver the majority of items as quickly as you need them. A variety of flexible delivery options are available, including complimentary carriage on orders of £300 net.
Hose Assembly and Test Facility...
On-site facilities include: fully equipped workshops for our engineers to assemble, test and certify pneumatic (up to 500 PSI) and hydraulic hose (up to 30,000 PSI) and fully stocked trade counters at both branches, where knowledgeable staff will help you to find an immediate solution to your needs.
Our promise to you...
Our commitment to offering high standards of products and services and aftercare, are what make us stand out in the fluid power market. We put our customers' needs first and are committed to exceeding expectations. Independently assessed by the BSI, accredited to BS EN ISO 9001:2015 and a member of the British Fluid Power Distributors Association (BFPDA), you have peace of mind that when you buy from Tom Parker Ltd, you buy from a company who cares.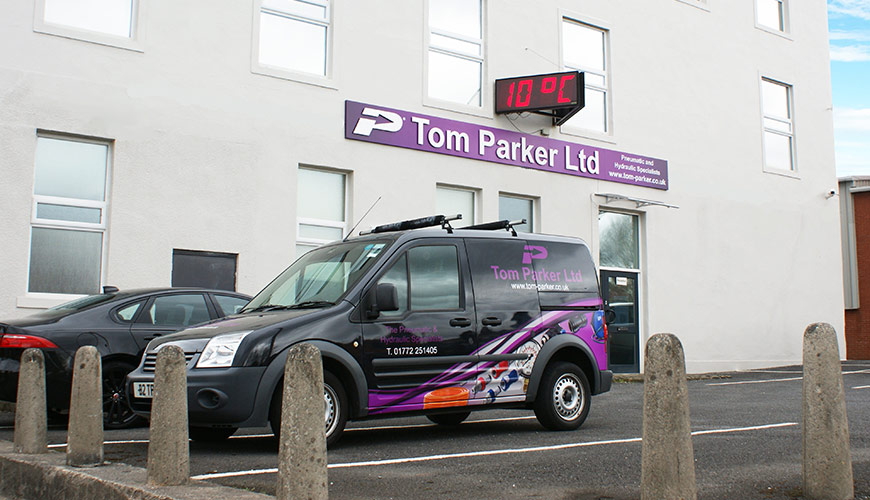 Fast Delivery

The majority of items are despatched on the day of purchase. We provide a reliable email delivery confirmation service via FedEx. When you place an order with us, FedEx will email you the details of delivery, with the opportunity for tracking your shipment.

Shop Online 24/7

Why not register an online account on our website? This will enable you to purchase what you need, no matter what time of day or night or where you are located. Just click on "register" in the top right hand corner and fill in the simple form. List price discounts will also show up online, as and when they are issued to you. When logged in, you will also be able to see live stock figures and all of our current, exclusive special offers.

Best Quality

We always endeavour to source the highest quality products on the market, throughout the world and provide them to customers at the most competitive prices. We are constantly alert to new product lines that are introduced to the market and have access to futuristic, ground-breaking stock. With the most sought after ranges at our fingertips and close connections with the leading suppliers in the pneumatic and hydraulic industry, we can cater for your every need.